Reiki Training/Course in Rishikesh, India.
Any person can do the Reiki Training in Rishikesh. One requires not to have any unique inclination towards healing, unique gifts, or previous experience. Relatively, it is simply the desire to help others, to enhance one's spiritual path, or an internal search for well-being that offer as the only requirements for learning Reiki.

Reiki (pronounced "Ray-kee") is a very simple and highly effective hands-on healing technique that creates balance and harmony within the mind, body, and spirit. The word "Reiki" comes from two Japanese characters or kanji. The top character "Rei" means "universal soul or spirit" and "ki" means "energy." Jointly the two words signify "universal life-force energy."

All learners begin with the Reiki Level I training and then progress at their own pace through the other levels if desired. Many students work with each level's teachings for a while, developing what they have learned and applying the techniques. With the completion of each Level of training, students receive certification as either Reiki Practitioner, Advanced Reiki Practitioner, or Reiki Master.

"Become a certified Reiki Practitioner...Learn to heal with your hands!"


How Reiki works ?
As a healing process, Reiki uses an energy transmittal system in which the Reiki practitioner draws energy from the universe and then transfers this energy through the hands to the self or another. Physical, mental, emotional, and spiritual blocks are dissolved with Reiki, bringing people greater health and overall well-being. Reiki works with the body's innate wisdom to facilitate healing where and how it is needed.
"The doctor of the future will give no medication, but will interest his patients in the care of the human frame, diet, and in the cause and prevention of disease."
-Thomas Edison
History of Reiki
In ancient India and afterward in Tibet, spiritual mystics used Reiki energy secretly for purification, healing, and enlightenment. Reiki became a lost art right until a Japanese monk and spiritual seeker, Dr. Mikao Usuisan, rediscovered the techniques in the 1800s while on a quest to discover how Christ and Buddha had healed through touch. In the 1930s Mrs. Hawayo Takata introduced Reiki to the United States from Japan after she had been healed of illness through a series of Reiki treatments.
Today Reiki healing is taught and practiced throughout the world as a gentle, effective technique for self-healing and healing others, offering to rebalance and contributing to overall well-being. Reiki is now being offered in hospitals, clinics, private practices, and homes. Reiki may be used effectively on people, animals, plants, and even on projects.
Levels in Reiki Course
There are mainly three levels in the Reiki course to be a Reiki Grand Master:
Level1, Level2, and Level 3 (Master Level)
Reiki Level I
Duration: 2 Days ( 2 hrs Daily )
In Reiki Level I students become familiar with Reiki energy and are trained in how to perform healing sessions on the self and others. Learning Reiki consists of an energy activation process called an "initiation" which is carried out by the Reiki Master with each student. Via this initiation ceremony students are opened to the flow of Reiki energy which presents an energetic shift, causing healing energies and intuitive insights to emerge. The initiation opens innate healing channels which allow students to instantly tap into the flow of Reiki energy and perform healing sessions. In add-on to learning the Reiki method of healing, students also experience an acceleration in their spiritual awareness and intuitive abilities as a direct result of the Reiki initiation.
After learning Reiki, students report having increased energy, self-awareness, personal charisma, peace, and compassion.
What are the topics covered in Reiki Level I Course ?
What is Reiki and how the Reiki energy works.
The history of Reiki.
How to channel Reiki energy for self-healing and the healing of others.
Reiki Level I Initiation: (Reiki attunement) which open the flow of Reiki energy within the student.
Hand positions for self-healing and healing others.
Techniques for tapping into and expanding intuitive, extra-sensory perceptions for use during healing sessions.
How the chakras function with regard to healing work and everyday life.
Self-healing techniques for expanding personal awareness and accelerating wellbeing.
Hands-on practice both giving and receiving Reiki sessions.
Reiki and spiritual growth.


Reiki Level II
Reiki Course Duration: 2 Days ( 2 hrs Daily )
A person can get more days and hours to learn the program according to their needs.
Reiki Level II is considered the "Practitioner's Level" and offers students advanced Reiki teachings. Now, In Level II students are given complete tools for working with Reiki energy both in person and through "absentee" techniques. The Level II Reiki amplifies the Reiki I energy and produces a grounding or solidifying of the energy as it settles into the student's aura in a profound manner. Moreover, students are given ancient symbols which allow the Reiki energy to perform powerful functions, such as specific mental/emotional/spiritual healing and long-distance healing. Students are taught channeling techniques, thereby increasing their overall psychic awareness in life and in healing sessions. Students also learn to work with their own "chi" in order to strengthen their personal energy and health so that they are able to accommodate more healing energy and be of greater service.
What are the topics Covered in Reiki Level II Course
Ancient techniques for circulating "chi" energy in the body to strengthen the energy field and physical body.
Creating a sacred space at home for aid in performing long distance healing and for meditation practices.
Ancient symbols: their names, meanings, and uses.
Practice drawing and working with the symbols .
Reiki Level II initiation: attunements which open the flow of Reiki II energy and activate the power of the sacred symbols .
Hand positions for long distance & mental/emotional/spiritual healing .
Techniques for tapping into intuitive, psychic perceptions in mental/emotional/spiritual healing and working with affirmations and channeling techniques .
Hands-on practice performing mental/emotional/spiritual healings and long distance healing .

Reiki Level III
Reiki Course Duration : 2 Days ( 2 hrs Daily ) if you do reiki all levels with us

Reiki Level III / Mastership is offered to select practitioners who would like to become Reiki Masters, having the ability to teach others Reiki and initiate individuals into all levels of the Reiki system of natural healing. Reiki Level IIIrd represents a significant shift in the practitioner's journey as he/she commits to helping others learn how to channel healing energy. Reiki Level III brings to the practitioner greater awareness and empowerment in many levels of life and provides a spiritual mission to spread healing through Reiki.
What are the topics Covered in Reiki Level III/ Mastership Course Details
Introduction to Reiki Mastership & General Guidelines.
Level I information: How to teach Level I & initiate others into Level I Reiki energy.
Level II information: How to teach Level II & initiate others into Level II Reiki energy .
Level III information: How to teach Level III & initiate others into Reiki Mastership energy .
Mastership symbol-practice drawing and applying symbols .
Reiki Mastership Initiation/ Attunement .


Reiki Training/Course fee and availability: 2023
| Course Name | Duration | Availability | Course Fee | Booking |
| --- | --- | --- | --- | --- |
| Reiki Level 1 | 2 Days | 1st of every month | 100 USD | Book Now |
| Reiki Level 2 | 2 Days | 3rd of every month | 120 USD | Book Now |
| Reiki Level 3 | 2 Days | 5th of every month | 250 USD | Book Now |
| Reiki Level 1 & 2 | 3 Days | 1st of every month | 150 USD | Book Now |
| Reiki Level 1, 2 & 3 | 6 Days | 1st of every month | 350 USD | Book Now |
Why choose Braham Yoga for Reiki Training/Courses
We do not tell you that we have the best teachers, the best environment, and the best place. It is told by everyone, also you can see this all on our website in the gallery and about section. Instead, I want to show you the reviews from others so you can trust our course/training at Braham Yoga Holistic Health.


Frequently asked questions on reiki training/course
Food and Accommodation
If you also want food and accommodation then it cost 30 USD/day.
You have to inform us one month before if you want to join the training with food and accommodation.
We provide nutritious vegetarian food only which includes fruits in the morning, lunch includes lentils, chapati, vegetable, and rice. Dinner includes the same.
If you only want accommodation then it cost 15 USD/day.
Accommodation is in the ashram near Ganga.
Reiki training image gallery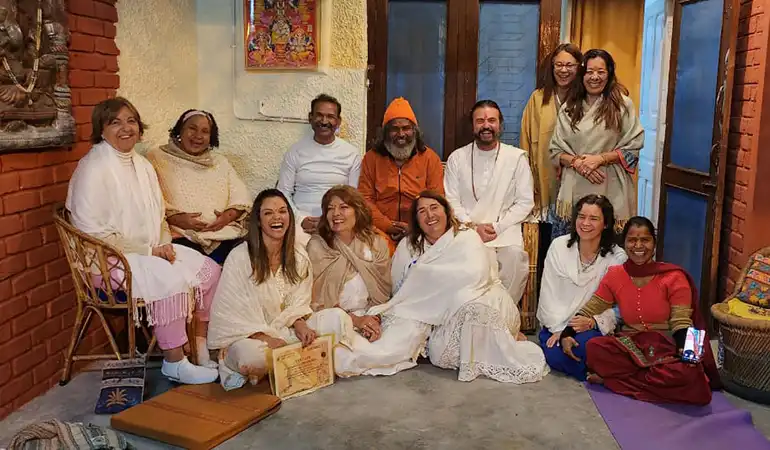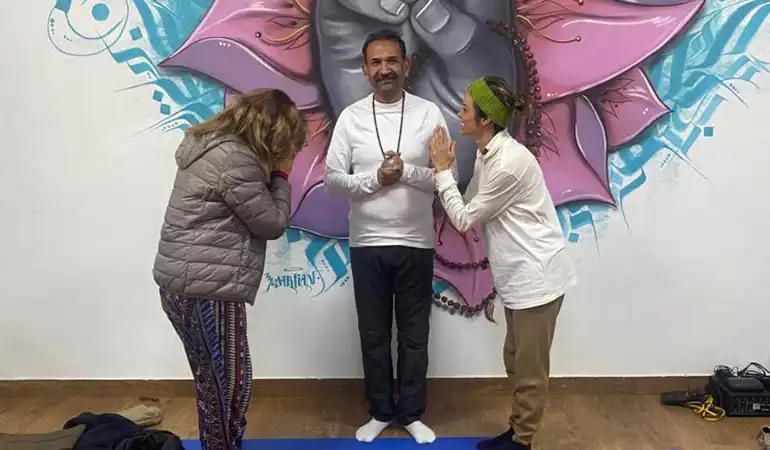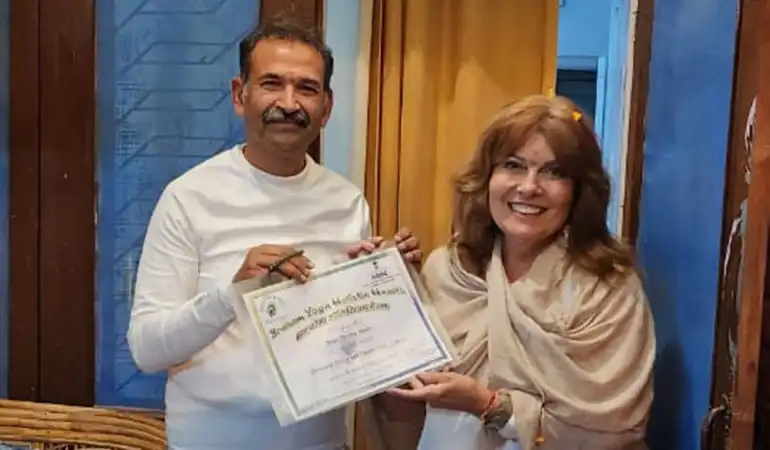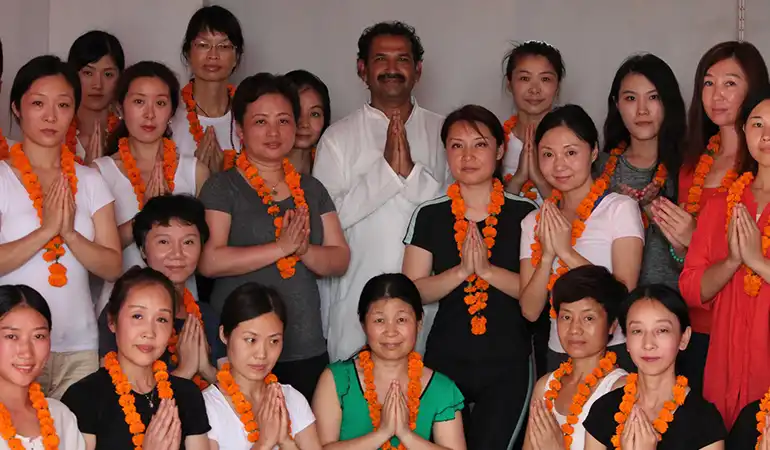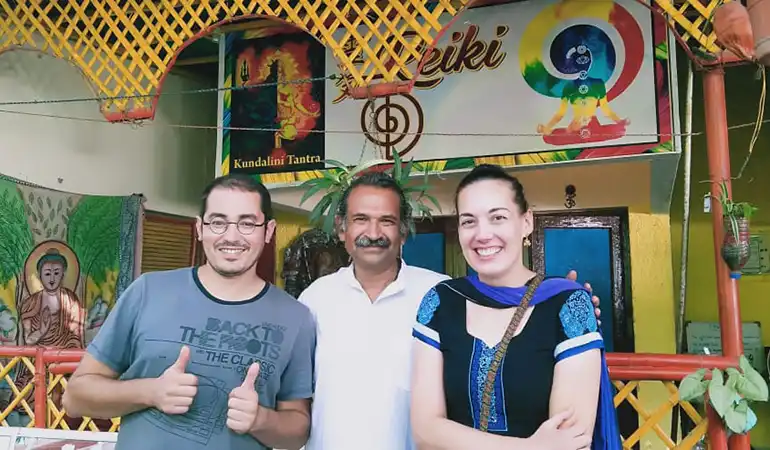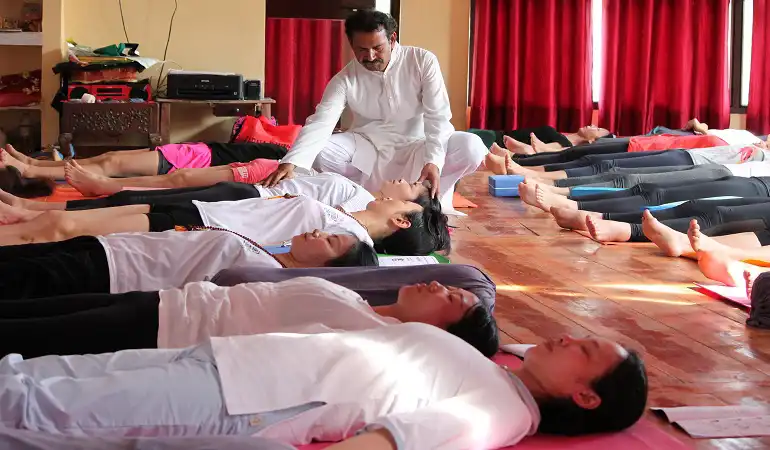 Other things we provide but not included in the training fee
Taxi pick-up facility from Delhi, Dehradun, and Haridwar.
Yoga sessions
Note: If you want a complete day-wise schedule that includes yoga, meditation, reiki training, pranayama, mantra chanting, and yoga nidra then you can join our 6 days Reiki teacher training/Reiki retreat in Rishikesh.
Please make your advance course fee through Paypal